Dr. S. Krishnan
(Editor-In-Chief)
Dr. S. Krishnan is an Associate Professor in Seedling School of Law and Governance, Jaipur National University, Jaipur, Rajasthan. He had worked as an Assistant Professor in History in Apex Professional University, Pasighat, Arunachal Pradesh. He has 3 and half years teaching experience. 
He had also worked as a Journalist for about 5 years in esteemed newspapers like Indian Express and Daily News Analysis, online newsportals and a magazine in Gujarat. And he worked as a Liaison Officer in Indian Society of International Law, New Delhi in 2013. 
The writer has 60 articles (42 National + 18 International) in the journals and 481 Journalist Reports.
Contact:
Email Id: s.krishnan@jnujaipur.ac.in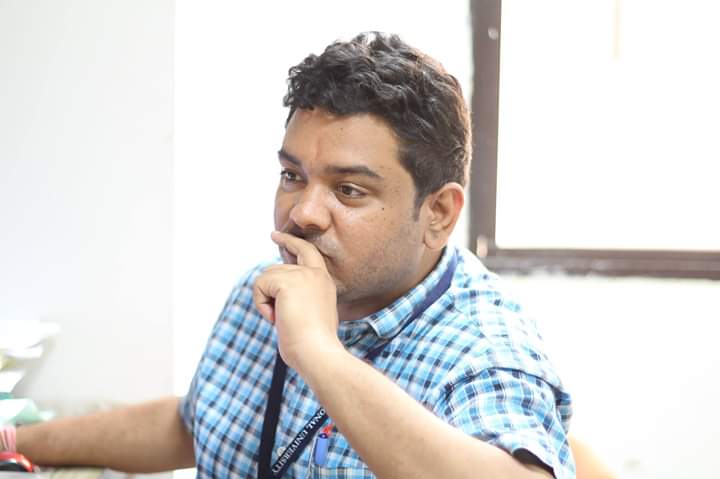 Ms. Swati Pandita
(Associate Editor)
Ms. Swati Pandita is an Assistant Professor in Guru Gobind Singh Indraprastha University. She did her LLM from The Rajiv Gandhi National University of Law, Patiala (Punjab) with specialisation in Business Laws. She has work experience of over 2 years and is presently working as Independent Researcher and Assistant Professor at Fairfield Institute of Management & Technology, Delhi.
She has research papers published and presented in the field of Corporate Law, Human rights and, Gender & Sexuality. She is currently working on a project on Sexual Minorities in India and caste based discrimination among Kashmiri Pandits.
Contact:
Email Id: sp2333@cornell.edu
Ms. Chhaya Bharadwaj
(Associate Editor)
Chhaya Bhardwaj is a United Nations trained international lawyer. Apart from public international law, her research focuses on Environmental Law, Information Laws and International Dispute Settlement Mechanism.
She completed her B.A., LL.B. from Lloyd Law College, Chaudhary Charan Singh University Meerut in 2015. Thereafter, she was selected as an International Scholar at Environmental Law Center, Vermont Law School to pursue her LL.M. in environmental laws. After completing her LL.M., she joined Lloyd Law College as an Assistant Professor where she started Environmental Law Center and served as its Assistant Director. She also started International Migration and Refugee Law Center at Lloyd. In 2018, she assisted Mr. Dire Tladi at United Nations International Law Commission with his work on "peremptory norms of general international law (jus cogens)".
She has received various awards like the United Nations Fellowship (2017) to attend the Regional Course in International Law, Asia-Pacific. In 2018, she was awarded with the Local Pathways Fellowship by United Nations Sustainable Development Solutions Network for her work in environmental education and youth empowerment. In 2019, she was awarded with Junior Scholars' Scholarship by Asian Society of International Law to attend the 7th AsianSIL Biennial Conference on International Law. She has received Best Research Paper award from institutions like the Law Commission of India for her research in environmental and international law.
Contact:
Email Id: cbharadwaj@jgu.edu.in
Mr. Md. Baharul Islam
(Associate Editor)
Md Baharul Islam, Assistant Professor, ICFAI Law School, The ICFAI University Tripura, has been a University Topper, awarded with Gold medal for his outstanding performance during his Masters (LL.M.). His area of interest includes Space Law, Cyber Law, White Collar Crime, IPRs and several other evolving jurisprudential dimensions.
He is an active academician crediting a plethora of Articles and Research Papers in a handful prestigious National as well as International Journals, apart from book chapters and a book authored by him.
In course of pursuing his academic profession, he played a pivotal role in establishment of the N.J.Y. Centre for Post Graduate Legal research and he also framed one year as well as two year LL.M and ODL LL.M Course Curriculum. 
He has been in a strong academic mission of boundary-less legal knowledge dissemination among academic professionals, law faculties, research scholars and law students during the lockdown of COVID-19 crises. 
He has a deep thrust for dynamic legal discourses haunting him to join various seminars, webinars, workshops and Faculty Development Program conducted by various national legal educational institutions. He has even represented The ICFAI University Tripura at National as well as International Level, apart from playing various significant roles in creating inter-institutional relations with several national legal educational institutions.
Contact:
Email Id: baharul.i@iutripura.edu.in
Adv. Kanisshka Tyagi
(Associate Editor)
Kanisshka Tyagi is an Advocate is currently Business Strategies Department of Legum Amicuss, a young dynamic law firm having offices at New Delhi and UAE. She graduated from Campus Law Center, Delhi University, and joined a Delhi based corporate and commercial law firm, where she got extensive exposure in real estate sector and other general corporate and commercial work. She subsequently worked with leading corporate and commercial law firms in New Delhi (NCR Region) and got the opportunity to expand her practice base to include insolvency; private equity and regularly advised on cross border investment transactions amongst other practice areas. 
Her personal interest lies in structuring of new businesses/startups and structuring them with a holistic approach. Kanisshka with a view to encourage and mentor the young startups in India co-founded along with lawyer and company secretary and her partner at Legum Amicuss, The WorkPlace, co-working offices and facilitated and mentored several startups and their respective founders for a period of 2 years, at the end of which the stake in The WorkPlace was diluted in favour of finance head of a leading co-working office brand. 
Kanisshka joined Kaden Boriss, a leading global law firm, as a Partner in 2011. She has executed and advised both foreign and domestic companies on transactions related to private equity investments, real estate, acquisitions, corporate restructuring arrangements, commercial contracts and secretarial matters. Besides Kanisshka has been a regular contributor to law magazines and journals and regular speaker at conferences, seminars, law colleges, and has addressed a wide variety of audiences at various platforms on corporate-legal issues.
Contact:
Email Id: kanisshka@legumamicuss.com
Ms. Nidhi Arora
(Associate Editor)
Ms. Nidhi Arora has been associated with Banasthali Vidyapith, Rajasthan, India for around 4 years. She has attended various National and International seminars and conferences, besides chairing an International Conference in Colombo in 2018.
She has credit of many National and International publications in the indexed Journals. Over and above, she has been contributed chapters to different edited volumes and even she is the editor of several books.
She has also acted as a Judge in Moot Court Competitions. She has accomplished her B.A.LL.B., LL.M. and is presently pursuing her Ph.D. Her areas of research interest include Human Rights, Women Law, Criminal Law, Artificial Intelligence and Environmental Law.
Contact:
Email Id: nidhiarora@banasthali.in